My Colonel comes home later today.
(He's been away training with the cadets for over a month)

This week's Something Yummy for My Colonel's Tummy
is a new recipe I made to welcome him home.
And yes, it's EASY, DELICIOUS and
Ingredients:
24.5 ounce can of sliced peaches
(I used peaches in lite syrup)
1 package yellow cake mix
1 stick of butter cut into pieces
1 cup brown sugar
1/2 cup chopped walnuts (which I didn't have)
Begin by emptying the canned peaches, JUICE also, into a 13 X 9 baking dish.
I cut my peaches up into smaller pieces...
Sprinkle the cake mix on top...
Now add the butter that has been cut into pieces...
Add the brown sugar, followed by the chopped walnuts,
if you have them in your pantry.
I used dark brown sugar, next time I will use light brown sugar...
Bake at 350 for 40 minutes...
Can you smell how delicious this is...
All that's needed is a little whipped cream...
I would definitely try this with maybe blueberries or any other fruit.
This recipe received the MOST CLICKS on: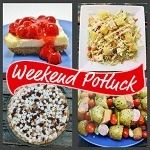 Linking up with: